Why Video SEO is important!
Video Marketing has become a common Online Marketing strategy. Next to millions of users, nearly every company uses YouTube to approach their customers. (Since this could highly influence your brand perception, the video should be involving and easy on the eye, e.g. Crumpler).
Because of the increasing number of videos out there, it's getting more difficult to be seen on the video search results page. So, what can you do to optimize YouTube rankings?
The SEO approach on (Video) Search Engines:
YouTube plays an important role concerning video releasing and video marketing. Even more, since it belongs to Google, there is a notable amount of videos on the SERP (even though Google states that their own products are not favored at all).
Several factors influence the YouTube search results ranking. Let us categorize them into three main areas: (1.) On-, (2.) Off-Page and (3.) YouTube Community.
1. Onpage Optimization
Onpage optimization shall not only improve the video itself but also the channel where it is uploaded to.
Tags: use your 30 characters to optimize the title tag. The channel tags(unlimited) shall be used for more general keywords. Moreover, the video can be tagged with a large number of keywords (see screenshot below). Here you could consider the variety of targeted languages and countries. Additionally you should categorize your video properly (category drop-down).

Descriptions: the video itself can be namedwith 60 characters. This will be the name shown above the video or as a default text link when shared, for example on Facebook.The description of the video leaves room for detailed information (10,000 characters or 160 words).External URLs and important keywords should be mentioned in the beginning of the description, it will be cut after 120 characters.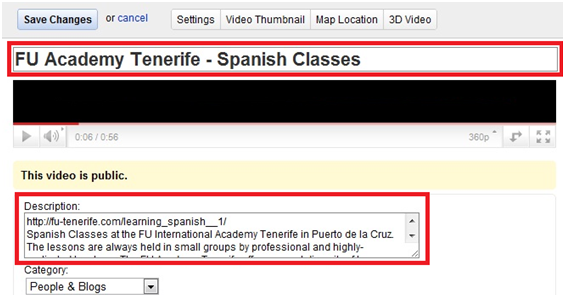 If you are not sure about your relevant keywords or if you just need some ideas for more keywords, take a look at the YouTube Keyword Tool.
2. Offpage Factors
YouTube takes in account the number of embedded videos and external links. The more connected your video is outside YouTube, the better it will be ranked on the video SERP.
NOTE: All metrics can be seen in detail within YouTube Insights.
3. YouTube Community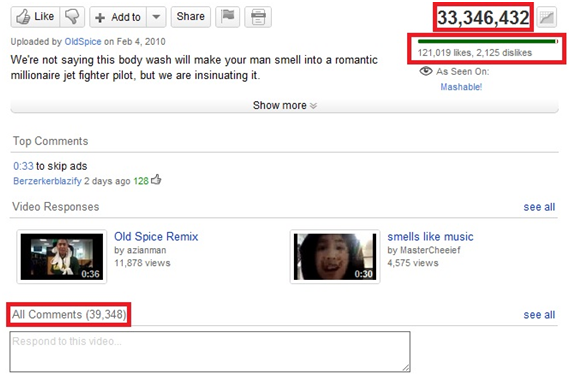 If you have optimized your video (plus channel) properly, you shall get involved with the YouTube community.
The search result ranking is heavily influenced by the number of comments and ratings, as well as by the number of shares and playlists you appear in.
Of course the number of views is important. But be aware, YouTube takes the video age under consideration. So it will already help to have as many views as your competitor, if your video was uploaded more recently.
Therefore, the number of views shall increase over time steadily to help its Video SERP position.
Last but not least, the number of channel-views and –subscribers are crucial to search results.
Further Suggestions
If you feel comfortable enough, you could get some traffic by letting your Video be the Response to your competitor's video. The thumbnail would show up right below his video description/Top Comments.
If you are not sure how to approach the YouTube community you shall take a look at your click through and bounce rate in relation to the length of your video. Maybe you'll find out where to improve your videos quality.
Be aware of your (competitiors) possibility to flag a video. This could have a huge negative effect on the video SERP rankings!