Don't worry! WE MAKE OUR OWN COFFEE.
Digital Marketing
Internship in Tenerife
Are you passionate about marketing? Are you looking to gain valuable work experience and discover what it is like to work in an international digital marketing agency for global players?
Then Optimanova is the solution for you!
Tenerife
Puerto de La Cruz
Canary Islands, Spain
Sunny island
23 degrees average temperature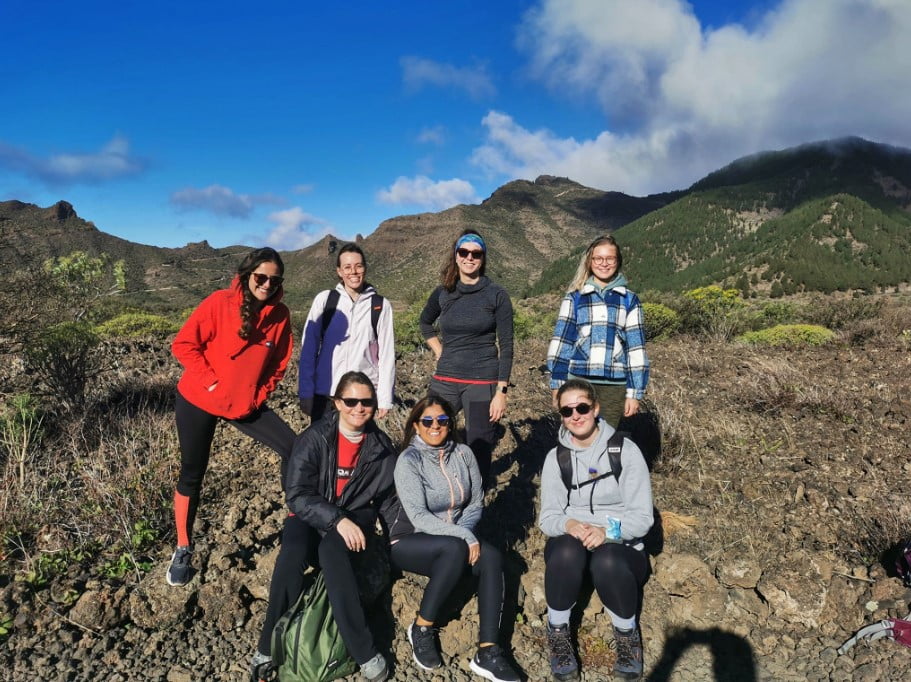 We welcome you to the world of digital marketing with open arms.
You'll be exposed to projects with existing clients and work alongside our team of international professionals to perform daily tasks and meet deadlines.
Attendance and contribution to all regular meetings are expected. These will be your digital marketing specific responsibilities:
Help our clients to rank highly in the search results for their target keywords by optimizing their website content and structure, page titles and meta descriptions. Create content for highly respected external websites, platforms and blogs to optimize their backlink profile.
Choose the right keywords and target audiences, write compelling ad copy, and respond to changes through ongoing campaign maintenance.
Help our clients to reach potential customers and promote products or services with Google Ads and Meta Advertising.
Track and analyze our digital marketing strategy with tools like Google Analytics, SEMrush and Search Console. Learn how to monitor the performance and prepare concise reports for our clients.
Content is king and a reliable source of traffic, brand awareness and leads. Create, curate or order optimized content for our clients.
Benefits of an internship
Other than living on a sunny island and receiving regular training, by the end of the internship you will master the art of Digital Marketing.
Work with an international team
Benefit from feasting on office snacks
Be entitled to 2 holidays per month (accruable)
Receive regular one-on-one training
Have the opportunity to become certified in Google Ads & Analytics
Will you be finishing your studies post completing this internship? Watch out! Students achieving high standards will be offered a contract to work at our company permanently at the end of the internship.
Testimonials
Read what others
say about us!
After six months of learning, discovering new tools and having fun, it's time to say goodbye to this amazing team. I've been so lucky to work with them, they taught me everything from scratch and even though it was my first professional experience in digital marketing, they were willing to trust me. I had the opportunity to participate in different projects which made me more confident, but I also felt that I was a valuable member of the Opti Team. I'm now able to say that I feel ready to continue my path in this field thanks to all the knowledge I've acquired there. Living on an island is a great experience but living there with them is even better, they're ready to make your time in Tenerife perfect. They'll always say yes to a good restaurant or a cool activity, knowing that was such a relief for me. Gracias a todos, nos vemos!!
Flutura Ilazi
Doing my 6-months internship at Optimanova Solutions in Tenerife was a spontaneous decision and it turned out as one of the best! I got a deep insight into the digital marketing world and was able to gain a lot of new skills in this field. The regular trainings and hands-on practice was a great way to build real knowledge. The Opti-Team is an amazing combination of people who you can share great laughs with, learn from and spend some quality time with on this island. I can recommend this internship to anyone who is looking for an interesting and invaluable experience in a rather unusual place!
As they say: Time flies when you're having fun! And I certainly had a lot of fun during my six-month internship here at Optimanova Solutions. Half a year packed with meeting new people, living on an island - and learning new things every day. I was looking for an internship that would really allow me to gain useful skills. To be honest, I did not have any Digital Marketing experience before starting my work at Optimanova. Well, now I can say that I am confident about using tools such as SEMrush and Ahrefs for keyword research, link building and more. I feel prepared to enter the "working-world" of Digital Marketing, also thanks to the many Google Ads certifications that I gained during the past six months. The team encourages you to learn and never be afraid to ask questions. I felt really welcome and part of the team from day one. What is also nice to know is that the team is really close and likes to do things together after work, too. Apart from having a great work atmosphere, we also went to the beach, took some drinks at the local bars and had a good time. ¡Muchísimas gracias a tod@s!
Uf, it is already time to write my testimonial? Time flew the past 6 months at Optimanova and I learned a lot during my internship. Everything regarding digital marketing was taught to me from scratch, making me understand the digital marketing world. But not only did I learn a lot during my internship, having fun at the office was never neglected either. The Optimanova team creates the most welcoming working environment with room to ask questions and make mistakes. Choosing to do my internship on Tenerife was definitely one of the best decisions I have made so far in my professional life. The island is a little paradise with lots of stuff to explore. If you are thinking of doing your internship at Optimanova, I can only encourage you to do so - you will have the best experience you could wish for.
My first professional experience took place at Optimanova Solutions. From this experience, I can say that I have acquired a lot of skills in digital marketing thanks to the trainings but also to the different tasks that were dedicated to me throughout these 6 months. I would like to thank the whole team that welcomed me so well! I will miss Tenerife and Optimanova too!
I had a super great time at Optimanova for my last Master's degree internship. I haven't seen how the 6 months went, as every day was different and never boring! Not only that, but I cannot say that I had a lot of knowledge about digital marketing before this internship, but thanks to all the training, practice, and patience of the team, now I can say that I improved my skills in Google Ads, Google Data Studio, Google Analytics, and also Link Marketing. While being part of the Optimanova team, I have learned a lot about myself and gained confidence, patience, and, of course, knowledge of digital marketing. This internship was a revelation about what I really want to do after. I will never be able to thank the team enough, especially Alfonso and Laura, for believing in me and accepting my application. I will really miss the office ambience, our lunchtimes, jokes and stories. Thank you all for everything; for all the moments shared, the adventures on this beautiful island and, of course, the mini-golf parties!
What can I say? It seems to it was yesterday when I arrived and there's just one day left. My internship at Optimanova was meaningful in all possible ways, professionally, making me discover a new world in Digital Marketing, and of course, personally, achieving a better version of myself. I was able to gain experience in different Marketing tools such as Ahrefs and SEMrush, Google Ads, Google Analytics and Data Studio, and also SEO. Optimanova's family is always there, anytime. Finding a company where you feel at home is difficult, but here, undoubtedly, it is real. Full of joy, laughs, adventures and "softie" moments. I cannot express my gratitude enough!
I did my mandatory internship at Optimanova and couldn't have made a better decision. Not once during my 6 months here did I feel unwelcomed. The team feels more like a big family and is always happy to help and to answer questions. I got the opportunity to work on diverse and interesting projects alongside the professionals within the company, improve my knowledge in SEM, SEO, link marketing and more as well as work with different marketing tools. The internship at Optimanova is the perfect mix of learning, meeting people from different cultures and enjoying life living on an island. I really enjoyed my time here thanks to the amazing people working in the company and apart from learning a lot about digital marketing I gained some friends along the way.
My 6 months at Optimanova went by way faster than I could've thought. Perhaps this is because I had a lot of fun both in the office as well as on the island with all my colleagues, from chilling on the beaches of volcanic sand to taking walks along the coast. When I first started here I had hardly any knowledge of what marketing entailed, but previous knowledge isn't important. I went here to learn and grow and that I did. Thanks to the training I had received and online courses I could follow, I was able to build and thereafter expand my knowledge of marketing. Throughout my time here I was able to complete work alongside the team on projects which in turn gave me great insight into SEO, SEM and link marketing. So to sum everything up, I would most definitely recommend doing your internship here. It was like a once in a lifetime experience where you get to build your knowledge and experience surrounded by a marvelous team all whilst you can get your tan on during the weekends!
I did my final internship to conclude my master degree at Optimanova for 6 month and I couldn't have wished for a better experience. It is for sure one that I will remember forever. Not only did I learn a lot, but the team made me feel like being part of a second family while I was away from mine. I gained so much knowledge by working alongside sublime professionals in this ideal working place. When I arrived at Optimanova, even though I had previous experiences and studied digital marketing, everything seemed new to me but everyone is always happy to help and make you progress. I always felt accompanied and supported. The tasks are really diverse, I was able to improve my skills and learn more about Google Ads, Google Analytics, Google Data Studio but also in SEO and especially in Link Marketing. There is not a day that went by where I was bored. It is really a dream internship thanks to the amazing team, but also the fact that it takes place on the beautiful island of Tenerife. If you get the opportunity to work at Optimanova, you will improve your skills in Marketing, have great moments of laughter, gain lifetime friends and of course a lot of sun (maybe a few sunburns).
If you are interested in getting the fundamental skills to rock digital marketing, then you are at Optiminiva Solutions at the right address. You will have a lot of interesting insights into SEO, SEA and Content Marketing and even with a little bit of previous knowledge about digital marketing I could improve my skills a lot in these 6 months. Combined with the familiar and friendly atmosphere, I can only recommend doing this internship on this beautiful island where amazing people work.
My internship at Optimanova was the best experience I have ever had in the professional world. I learnt so much about digital marketing in general and it was very interesting. 6 months went by very quickly. All the team is here to help you and explain new things. The atmosphere is welcoming and everybody is nice. I had the opportunity to work on different projects. I worked on several projects in SEA or SEO, in order to learn as much as possible about it. Even with the Covid-19, I really enjoyed my 6 months internship on the island. This little paradise is real and there is no better way to spend an internship than to live on an island and have an incredible experience, both professionally and personally. I highly recommend this internship. If you have an interest for digital marketing in general and you want to learn more, don't miss the opportunity to learn and work in this field with experts. It is a unique experience to live on an island and work in good company.
I had a great time at Optimanova in Tenerife. Unfortunately, I had to spend the first 3 months of my internship in my home office in Germany due to the Corona pandemic and only then was able to travel to the beautiful island. Despite the distance, I always felt very comfortable and in good hands. The whole team at Optimanova is great and I really enjoyed working with everyone. From day one, I was fully integrated into the team, allowed to work on tasks independently, lead my own small projects and got to work directly for the agency's clients. Now, after my 6 months at Optimanova, I have a comprehensive overview of the world of online marketing, from SEO & SEA, to content optimization and data analysis. I was able to find my strengths and which tasks do not perfectly match my ideas of my future job. I would recommend an internship at Optimanova to everyone, firstly because of the great team and the very interesting work and secondly because it is a unique experience to live on this paradise like island.
I learned a lot during my internship at Optimanova and really enjoyed it. Everyone at the company is really welcoming and nice which makes it easy to adapt to the new environment. I had the chance to work on a variety of projects for different clients and got familiar with many important digital marketing tools such as Google Ads, Google Analytics, Data Studio, WordPress, Ahrefs, … If you are interested in the field of digital marketing, I can recommend this internship.
My internship at Optimanova was really the best first experience I could ever hope for. Everyone was lovely and welcomed me warmly. I felt like a part of the team right from the first day. I could learn a lot about digital marketing, Google Ads and Wikipedia. The team provided me with different training and I was also given the opportunity to pass different Google Ads certifications through Google Skillshops. My main tasks were related to link marketing, SEM and SEO, and even though I didn't like everything equally, it was really interesting to learn about the online marketing world. Despite the lockdown because of coronavirus, my 6 months here went by really fast and I enjoyed my time here. Tenerife is a heavenly island to live in, always sunny and you can enjoy both the sea, forests and the volcano. Either being for the living environment or for the office atmosphere, I really recommend doing an internship at Optimanova !
Thank you to everyone at Optimanova for such an amazing experience! Before coming to Tenerife, I had little knowledge about digital marketing. SEO, SEM, SERP, PPC were just crazy acronyms that I did not understand. After 6 months at Optimanova, I have gained skills and confidence using digital marketing tools.The staff at Optimanova were always helpful and open to questions no matter how small. With their expertise and guidance, I have learned about Google Ads, Google Analytics as well as additional tools like Ahrefs and Semrush. The weekly meetings and additional training sessions were also helpful, while working on client projects allowed me to receive real-life experience. On top of that the sunny island of Tenerife provided plenty of excitement! I was able to summit Teide, kayak with dolphins, dance Salsa, learn to surf and hike through dense-rainforests of Anaga among other adventures. In short, the island life provides adventure, the incredible, multicultural staff provides knowledge, and your time at Optimanova provides an experience of a lifetime.
Do you have what it takes?
Our requirements for the role:
Native English, German or French (additional languages are welcome)
Fluent in written and spoken English (for non-natives)
Computer literate and internet-savvy
Some work experience in any of the above-mentioned topics would be an advantage
Ability to survive on an island in the middle of the Atlantic Ocean for at least 6 months
Does this opportunity interest you?
Apply now!
Use our contact form, attach a cover letter and CV indicating your availability.