Optimanova Solutions
Google Premier Partner Agency
Boost your marketing strategy one level higher with a dedicated Google Partner agency. We have successfully demonstrated our ability to deliver the best possible campaign results and belong to the top 3% of the strongest performing team in Spain.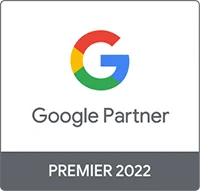 We hold the official International
Premier Google Partner badge.
What does being a Google Premier Partner mean?
Google Partners is a marketing program offered by Google for advertising agencies and digital marketing professionals who manage Google Ads accounts.
A special Premier Google Partner badge can be earned by demonstrating advanced skills and expertise in Google Ads (formerly Google AdWords). It's a seal of approval for continuous client revenue growth and a growing client base, while upholding and valuing Google's best practices for advertising.
Benefits of working with a Google Premier Partner agency
The Google Premier Partner badge is the ultimate stamp of approval. By awarding it, Google shows its highest trust in marketers through its continued growth in client revenue and its growing customer base, while maintaining Google's best practices.
To remain Google Partners, we have to continue meeting Google's standards and performance requirements over time. Google ensures that we provide excellent service and high-performing results for our clients.
The digital world is constantly evolving and Google knows it, as they're continuously monitoring our performance. We have to maintain our partner status, that's why we have to stay on top of our certifications and keep up with the latest methods.
The Premier status gives us access to an entire Google community of marketing experts to think of innovative ways to meet our clients' needs. We also get to attend exclusive Google meetings and events, where we learn how to optimize and refresh their marketing strategies.
As a Google Premier Partner agency, we have a dedicated Google team that we can contact for fast and advanced technical support. This also includes a contact person dedicated to assist us, meaning that our clients don't have to wait in line to solve their Google Ads issues.
Premier Google Partner agencies have access to beta programs, which can be tested up to one year or more before being made available to the general public. This gives us a huge head start on the competition.
Online marketing areas
Our certifications
Do you need help with your online presence?